Waterproofing
Window openings are caulked with flexible sealants, which can eliminate water leaks and reduce energy losses. American Glass is one of the few companies in Tulsa that has the knowledge, expertise, experience, and equipment necessary to safely reach even the most difficult locations.
Whether the issue is with the perimeter edge sealant, or within the window system itself, you can trust American Glass to correctly identify and fix the problem.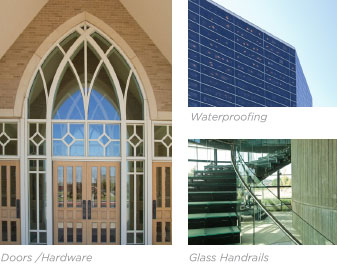 Door Services
Doors are the point of entry to every business. Design, size, use, traffic, and style are all crucial elements in deciding the best application, and that's why American Glass is proud to offer the most versatile selection in Oklahoma. Whether it's a brand new entry or repair of an existing one, we strive to exceed your expectations.
American Glass Services
Standard aluminum storefront doors
Custom aluminum storefront doors
Certified door manufacturer of industry standard door manufacturers
Sliding doors - Mall sliders, ICU sliders
Replacements - Doors, Hardware, Closers, etc.
Maintenance programs
All glass doors
Balanced doors
Revolving doors
Door frames
Door parts
Glass Handrails
Glass railings can be customized to satisfy any architectural preference, from clean and simple to complex artistic designs.
Glass hand railings offer modern styling and structural soundness, combining safety and durability with pleasing aesthetics.
Glass hand railings have long been the most popular choice in commercial applications.
Adding elegant glass railings will not only open up a wondrous view, but will also create clean contemporary lines. All glass rail systems installed by American Glass are built with the highest quality materials and craftsmanship.
Alarm / Locksmith License # 1199